Recipes with Krystale oysters
The regions of France, from Normandy and Brittany to Marennes-Oléron, offer a rich variety of oysters for every taste bud. Whether you prefer raw or warm oysters, a number of preparations work equally well, from tartares to gratins. Here you will find a selection of recipes to try at home. For more ideas, go to www.huitres-normandie.com
Krystale oysters with apple and cider sauce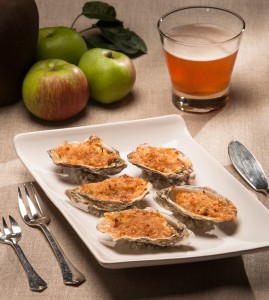 Serves 4 persons

– 24 Krystale oysters
– 3 shallots
– 1/2 litre farmhouse cider
– 1 cooking apple
– Double cream
– 1 soup spoon thick crème fraîche
– Breadcrumbs
– Salt and pepper
– Butter
– Chop the shallots very finely.
– Cut the apple into small pieces.
– Open the oysters and conserve their liquid.
– Melt the butter in a pan and sweat the shallots for 2 minutes on a low heat.
– Add the cider and liquid from the oysters. Reduce by three quarters and add the double cream.
– Continue to reduce for a few minutes, then add the crème fraîche and allow to thicken.
– Heat the grill of the oven to quite a high temperature.
– Place the oysters in a dish with some coarse sea salt in the bottom to keep the oysters upright.
– Cover the oysters with pieces of apple, a spoonful of sauce and sprinkle with breadcrumbs.
– Brown under the grill.
Krystale oyster sushi with Vietnamese fish sauce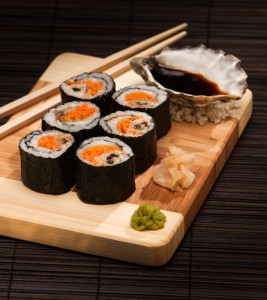 Serves 4 persons

16 Krystale oysters
1 sheet of Nori
Vietnamese fish sauce (Nuoc Mam)
100 g short grain rice
1/2 cucumber
1 carrot, grated
– Cook the short grain rice with a stock cube and season with coarse sea salt.
– Chop the1/2 cucumber into thin strips and mix with the grated carrot.
– Shuck the oysters and cook for 30 seconds in their liquid.
– Unroll the sheet of Nori and cover it with rice, some cucumber and carrot.
– Add the oysters and roll the sheet.
– Chill for 2 hours before cutting into pieces.
– Serve with Nuoc Mam sauce.