Our Story & Terroir
Because the sea has shaped our story for over 50 years,
Because it is where we have always been at home,
Because it is and always will be the backbone of our profession and our inspiration…
It all begins with the sea.
Our story began with our grandfather René K'Dual, a fisherman from Gouville-sur-Mer in Normandy, on the western English Channel. He began farming oysters in the1960s following an earlier career in whelk fishing.
His two sons, Roger and Yves ensured the continuation of his savoir-faire and naturally went on to transmit it to their children on a day-to-day basis.
Then one day, it was the turn of the four grandchildren, that is to say us – Hervé, Cédric, Stéphane and Emilie – to carry on the tradition, which we decided to do. In 2007, we formed a company together called Huîtres and Ko. Excelling in different areas, we all bring something different to the company, but what unites us is our dedication, tradition, conviction and love of what we do, which you can see in our commitment to quality and the magnificent marine terroirs with which we work.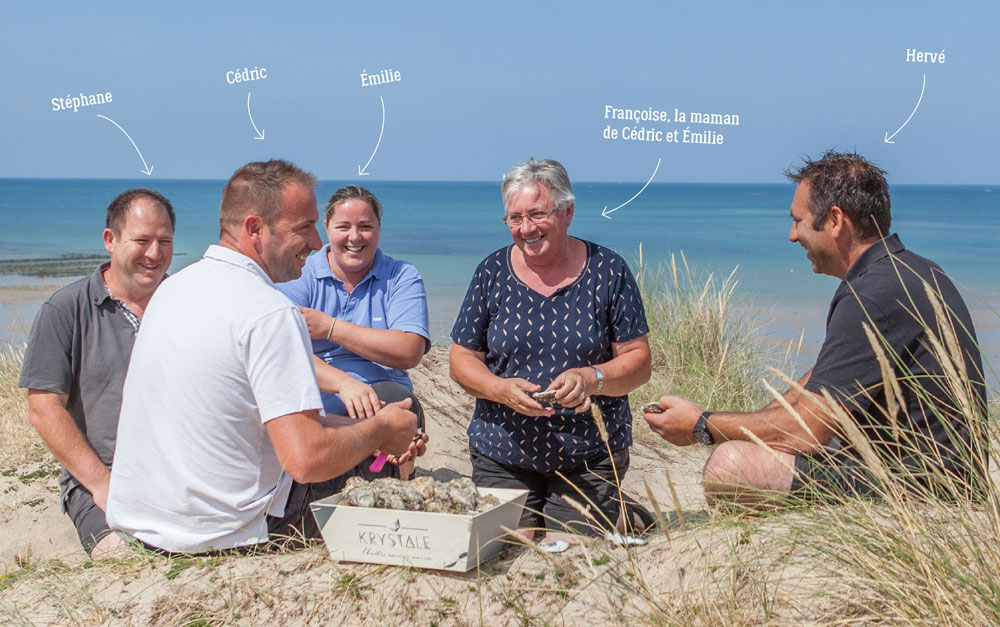 Our savoir-faire is at the heart of what we do
Following years of observation, research and innovation, today we have a special production system which is well-suited to our terroirs and which we are able to control. It focuses on:
→ ensuring excellence,
→ consistent year-round product quality,
→ the search for delicious, powerful and exquisite flavours.
From the well-regulated supply of spat (spawn) to the development of the molluscs, days and days of work, meticulous monitoring and dedication are involved to ensure we obtain the best results at every stage of the process with constant respect for the environment and the products.
→ To demonstrate our love of a job well done,
→ To bring you exceptional oysters and mussels,
→ To allow you to discover and share in a 'Krystale' moment…
These are the goals that help create the Krystale magic.
Krystale, is ultimately about a unique experience combining the delights of beautiful products that taste wonderful. Imagine an exquisitely pearlescent oyster or a softly rounded mussel, then succumb to its exceptional flavour – you will have never tasted anything like it before.
The aromas are powerful with strong iodised, marine notes, the flesh is generous but delicate and the flavours are subtle and refined.
With Krystale, there is a meal idea for everyone
be it with oysters or mussels.
With Krystale, special moments are in store for all
thanks to traditional or inventive preparations.
With Krystale, no one can miss the magic
of the experience and the taste.